29 Oct

RN MS Tele- Panorama City, CA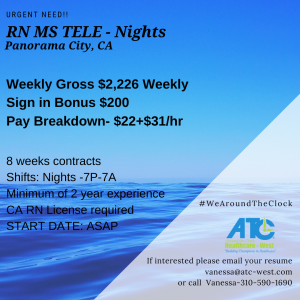 ATC West Healthcare is currently hiring for an RN MS/Tele assignment to a prominent healthcare facility in Panorama city CA, USA
Job details
Location -Panorama City , CA USA
profession – RN
Specialty – MS /TELE
Contract type – 8 week contract ( Strong extension possibility )
tentative start date – ASAP
Shifts – Night (12 Hours) 19:00 7:00
Weekly Gross – $47/hr ( $2226/week)
Sign in Bonus – $200 after week one
Minimum Requirements
1 years recent RN MS /TELE Acute care experience required
BLS required
CA RN license required.
The qualified candidate will be required to submit the following documents by email
Current Work History/Resume Please indicate month & year chronologically (Required Immediately!!)
Clear copy of AHA BLS ,
CA RN license
professional references( managers or direct supervisors ) .from your last two years of employment. their names & title , phone number and facility you worked at with them, and the month/year of the start and end of your assignment there with them.