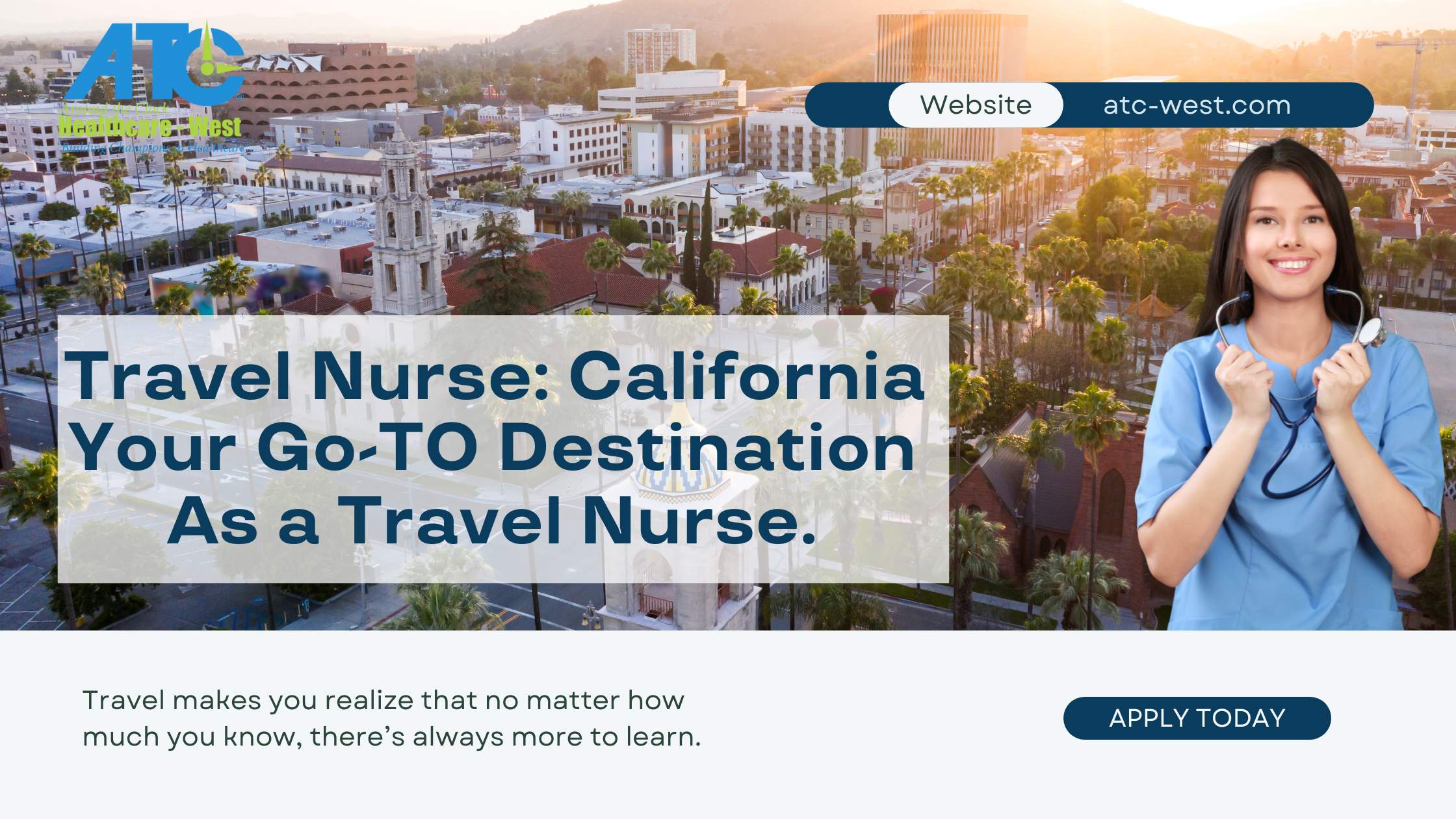 08 Feb

Traveling to California on assignment

Here are some things you need to know and why California is an excellent destination for a Travel Nurse.

As a travel nurse heading to California, here are some essential things you need to know:
Licensing Requirements: California has specific licensing requirements for registered nurses. Make sure you have the necessary documents and certifications.
Healthcare Facilities: California has many healthcare facilities, including hospitals, clinics, and nursing homes. Similarly, ATC West Healthcare's travel nurses receive individualized care and attention from a team of dedicated Recruiters, Nurse Care Specialists, and Travel Liaisons to ensure the best assignment experience in California. Let us find you your next travel assignment in the region.
Climate: California has a diverse environment, ranging from the Mediterranean in the Coastal areas to the desert in the inland regions. Familiarize yourself with the environment in the area you'll be working.
Culture: California is known for its diverse and progressive culture, with a strong focus on healthy living, environmental sustainability, and innovation.
Transportation: California has a well-developed public transport system, including trains, buses, and ride-sharing services. However, having a car may be necessary for some areas.


As a Travel Nurse, California is a go-to destination. California is abundant in healthcare opportunities. Here are some advantages of being a travel nurse in California;
High Demand for Healthcare Professionals: California has a large population and a growing demand for healthcare services, providing ample opportunities for travel nurses.
Competitive Pay: California is known for its high salaries for healthcare professionals, including travel nurses, making it a lucrative destination for those looking to maximize their income.
Various healthcare facilities: California has a wide range of healthcare facilities, including large hospitals, specialty clinics, and rural health centers, offering a variety of work environments and patient populations.
Supportive healthcare community: California has a supportive and collaborative healthcare community with a strong emphasis on teamwork and patient-centered care. This creates a positive and rewarding environment for travel nurses.
Vibrant Lifestyle: California is known for its beautiful beaches, scenic national parks, and thriving arts and culture. It provides travel nurses with a unique opportunity to enjoy a rich and fulfilling personal life.
Professional development opportunities: California is at the forefront of healthcare innovation and has a thriving healthcare community, providing travel nurses with opportunities to advance their skills and knowledge.


Here are some fantastic travel assignments we have around California today for you.